Is it possible to wear sneakers anywhere else other than the gym? Of course yes, but this does not mean that you wear gym sneakers to dinner. Slip on sneakers, add a spring step but there are rules to be followed when wearing sneakers outside the gym. We have to admit that rocking sneakers with dresses is hard since you have to look classy and not like a secretary.
Sneakers can never be worn wrong; with a little fresh inspiration you can wear them day after day with different dress combinations. The coolest part about sneakers is that they are comfortable and can easily fit with work and casual wear. Your choice of dress and footwear will create a different vibe on your dressing statement.
We have to agree that fashion statements differ between different cultures and countries but the most interesting thing is that no matter which country you are from, ladies have agreed that rocking sneakers is for everyone. This is the one style that is accepted across the world because of the comfort they provide and the fashion statement they make. Converse seems to have become a favorite sneaker for most ladies in the United States and what's shocking is this one brand has dominated the market.
Here are some 5 dresses that you can rock with sneakers
1. Dresses above the knees
To rock dresses above the knees pair them with a cross body bag and you will look like you are ready to walk the better part of the day.
A frilly dress with the front above the knees and the behind below the knees wear with casual sneakers which bring it out very well.
2. Rock bright sneakers with summer denim dress
Do not shy away from colorful sneakers with a less colored plain dress they look fine. To enhance this look find a bag of pop color, to complete this look perfectly.
3. Most dresses rock with slip on sneakers.
Instead of wearing sandals with that knee length dress, slip on sneakers can do great. They look good with knee length dresses.
When a mini dress is worn with slip on sneakers they make a statement of a dance-all-night till morning. So you can rock a pair of slip on with a mini or a knee length dress.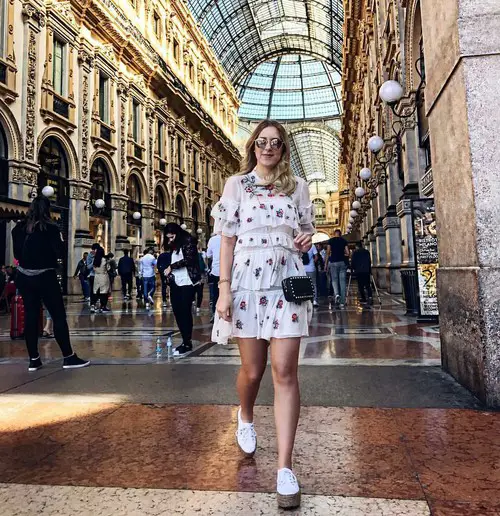 4. Mid-length dress shift dress with sneakers
This look is easy to pull off; a mid-length dress makes heads turn whenever it is coupled with sneakers. So try it out with a neutral colored pair of sneakers such as white.
A mid length vibrant dress will look quite well when paired with colorful pair of sneakers with shouting colors.
5. Primary colored dress
If matching is not your style juggle the colors and patterns between the dress and the sneakers. To bring out a casual chic look, have a primary colored dress with simple slip-ons which are patterned.
If the dress has a long hemline always match it with high sneakers and these proportions will work wonders in making a fashion statement.
Tips on how to rock sneakers with dresses
 When you wear sneakers make sure they make a fashion statement. So the best way to rock sneakers is making sure the ankle bone is visible. The perfect length dress needs to fall above the ankle bone.
 If you have to wear socks make sure they don't show but if it is possible do away with the socks. Some people find sneakers uncomfortable without socks so it is advisable to wear low rider socks for a comfortable feel.
 These are not just your fancy gym shoes but they are comfortable sneakers which can be worn all day long. So choose between wearing a solid color and choosing from some classic printed shoes with stripes or any other classic style you like.
How to pair sneakers with dresses
Pop colored sneakers; wear bold and bright colored sneakers with a printed dress star dress of your choice.
Jewelry sneakers will match with your jewelry literally and they are fabulous.  Chiffon sneakers match well with a white T-shirt with a clutch bag and some studded chucks. The look is perfect.
A gold sneaker is paired with a matching belt and some gold studs these will come out perfectly well. To complete this rocking look why not wear golden locks.