You squat down with the barbell over your shoulders. Hips back, shoulders strong. Five reps later you stand up and take your eyes off your reflection in the mirror. Behind you is some guy doing his bicep curls, and you catch him staring straight at your butt. Straight at it, no shame!
MUST READ:  How important is it to look cute and sexy when you go to the gym?
MUST READ:  Work It Girl! How to Dress For Your Body Type in the Gym
Watching people working out can be kind of mesmerizing, and sometimes we need something to look at during tough reps at the gym. But there's no reason why your butt has to attract all the attention. Here is a breakdown of the best and worst shorts to wear in the gym.
Let's start with the bad. If you're sick and tired of guys looking at your butt in the gym, don't wear:
Compression shorts
You must realize that these are just asking for it. Compression shorts are great for glute stabilizing, but if you go to a gym with a lot of lurkers, leave your compression shorts at home. Besides, they stabilize your butt so well that the lack of stabilization in your thighs is less-than-ideal for many exercises.
If you absolutely love the way those compression shorts feel, always remember you can wear them underneath something else. Keep the support, lose the creepy stares.
Capris, leggings, etc.
Capris and leggings for the gym are always tight, and always make you look fabulous. Really, you couldn't blame people for staring at your butt if you're doing squats in these things. If you must wear a longer leg for warmth, get yourself some baggy sweats and call it good.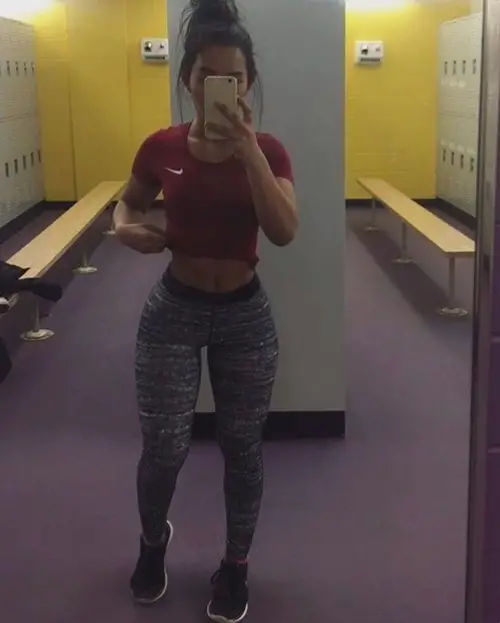 And now, for the iffy items. If these are all you have, go on wearing them until the staring really becomes a problem. And keep your eyes out for a better option as soon as you upgrade your workout wear.
Cheer shorts
They're low maintenance and cheap, and they aren't as short as they could be. However, cheer shorts are also loose-fitting right at the leg, and risk showing off the undies with any exercise that requires a lot of leg movement.
In more practical terms, cheer shorts absorb sweat instead of sluffing it off, and by the end of a workout you have a very sweaty garment hanging off your butt. Cheer shorts may not be the best for the gym, after all.
Running shorts
Running shorts are designed to keep you comfortable no matter how much you sweat, and many come in lengths that are a little more modest. They are also extremely comfy. However, running shorts subject you to the same risk that cheer shorts do – for any exercise with lots of leg movement, you might be showing off more than your butt.
Running shorts aren't always the most flattering around the tush, which might be a hidden benefit of wearing them to the gym. As long as you aren't doing any spread-eagle exercises, at the very least the poofy short material isn't attention-grabbing sexy.
Going straight to the store to buy the perfect bottoms? Are you officially fed up of your butt getting stared at in the gym? These bottoms are the sure thing.
Two-in-ones
Two-in-one running shorts have running shorts on top and a tighter layer underneath. You don't get the benefit of the sweat-sluffing fabric on your skin, but the combination of support and modesty is a win-win. You get the form-fitting fabric cupping you all around, but from the outside you just have poofy butt.
By adding the interior layer, no matter the shortness you don't have to worry about peek-a-boo views of your butt or undies. Two-in-ones are also super comfortable.
Trainer shorts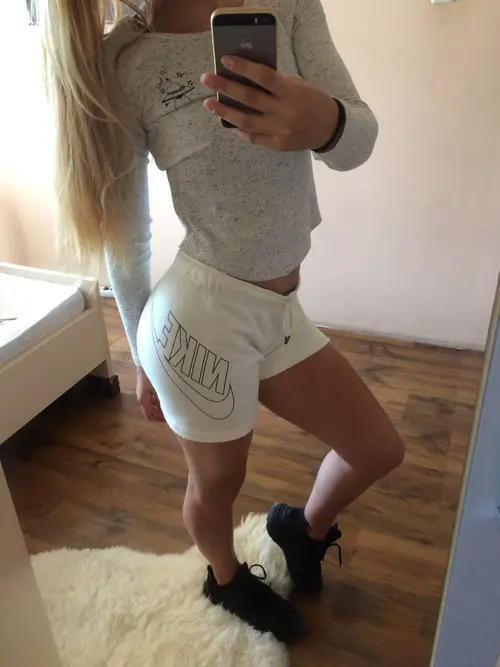 That's right—think women's basketball. Trainer shorts have a slick fabric that feels good on your skin all the way through a workout. They're also long enough that you definitely won't have any undie-flashes. Working out in trainer shorts also retains a little extra heat on your body to really get your sweat on.
Trainer shots are considered by some a heinously un-feminine gym bottom, but that might be exactly what you're going for. By favoring the practical over the sexy, these longer-length shorts can help you focus on the workout at hand without the uncomfortable eyeballs all over you.
We've already mentioned them, but gym sweats deserve an honorable mention. As long as they're the baggy sort (elastic ankles are best), you can stay comfortable and rock your work out. They do keep you pretty warm, so they may not be for everyone.
Exercising automatically calls attention to your body, and many exercises require that "hips back" form that pretty much begs your butt to be looked at, if only by your trainer telling you to shape up!
You shouldn't have to change your routine just because someone can't stop staring at your rear. Get the right bottoms, and you can get back to working out without the distraction.