Carrie Underwood gained worldwide fame after her debut in American Idol back in 2005. An Oklahoma girl who had only ever dreamed of having the spotlight, her talent won her a quick rise to fame. On the fourth season of the popular show, Carrie frequently appeared in the type of outfits you would expect of an American Idol contestant. She had the big jewelry and the requisite cleavage, the heels, and the outfits made to dance.
But then Carrie had her chance. She skyrocketed onto the world stage, and as a country girl she owned her style. She began appearing on stages around the world in denim shorts, and never seemed to have anything to prove.
The woman rocks her look, and 12 years after her booming start she still shows us where it's at with her denim, American look. Carrie is now in her mid-30s and still as cute as ever. Here are some of Carrie Underwood's best street style moments—who doesn't think they could borrow some ideas from this woman?
Carrie bridges "casual" to "cute" in a truly unique way. With this tight pair of denim, color-washed over the tops of the thighs, her lightly-sheer sweater lays over a loose gray cami. Her wrists flash bright sunlight, her sweater sleeves reaching only three-quarter length.
The strappy shoes at an additional touch you wouldn't think of if you started an outfit with denim. But Carrie shows how it's done. These strappy heels crisscross over the length of her foot, right up to the crinkled bottoms of her jean legs.
What to try: Carrie reminds us that heels can absolutely go with the most casual looks. Her sweater is relaxed, and her jeans have that light color wash, and Carrie looks like a dream.
She's done it again! Here, Carrie is rocking loose-fitted riding boots over her press-creased denim. The wrap blouse is such a deep blue that it brings out the light crease lines in her jeans, and with that big, teal and red dual-material handbag and big coffee she looks like the example of relaxation.
There is no pressure to always deck yourself out in frills. Carrie shows what great streetwear you can rock while flaunting beauty with nothing to prove. The chunky jade bracelet completes the look of Carrie's genuine confidence. This simple adornment is enough to make the outfit pop.
What to try: Have fun with what you wear! Like Carrie, don't obsess over the perfect shirt with the perfect jeans, and beat yourself up if you still feel imperfect underneath it all. You can be comfortable and confident, and beautiful. Take joy in the little adornments! And don't forget the morning coffee.
Every so often there's an excuse to dress up, but you can still make it comfortable. On this chilly night, Carrie Underwood was seen striding along in slick black slacks with these ankle-high, pointy-toed miniboots. Her dark beige cape jacket contrasts beautifully with her satin-black sleeves emerging from beneath it. The thick and soft deep maroon scarf looks stunningly beautiful around her neck.
Maroon and red? Clash? Never! Carrie has a bright red designer pursed around her shoulder, the strap showing brilliantly over her beige cape jacket. But you didn't notice, did you? Without a doubt, that gorgeous scarf draws your attention. It practically invites you to burry your face in in.
What to try: Don't sweat having everything match! You probably have fewer purses than you do blouses, so don't try to make everything perfect every single time. Make a single item the focal point of your outfit, and no one will notice the rest. Start with doing exactly what Carrie did, and find yourself the most luscious and richly colored scarf you can! You will be surprised what it can do to an outfit.
Carrie wears dresses! Yes, absolutely, even outside of performances and red carpet events Carrie Underwood is spotted in fancier garb. Here she is pictured in a stunningly detailed dress, the bodice of which is adorned with half a dozen different patterns and shapes across its bright blue fabric sheen. The sleeves allow just the slightest hint of skin or her arms to show, and the dress's length is playful while still formal at just above the knee.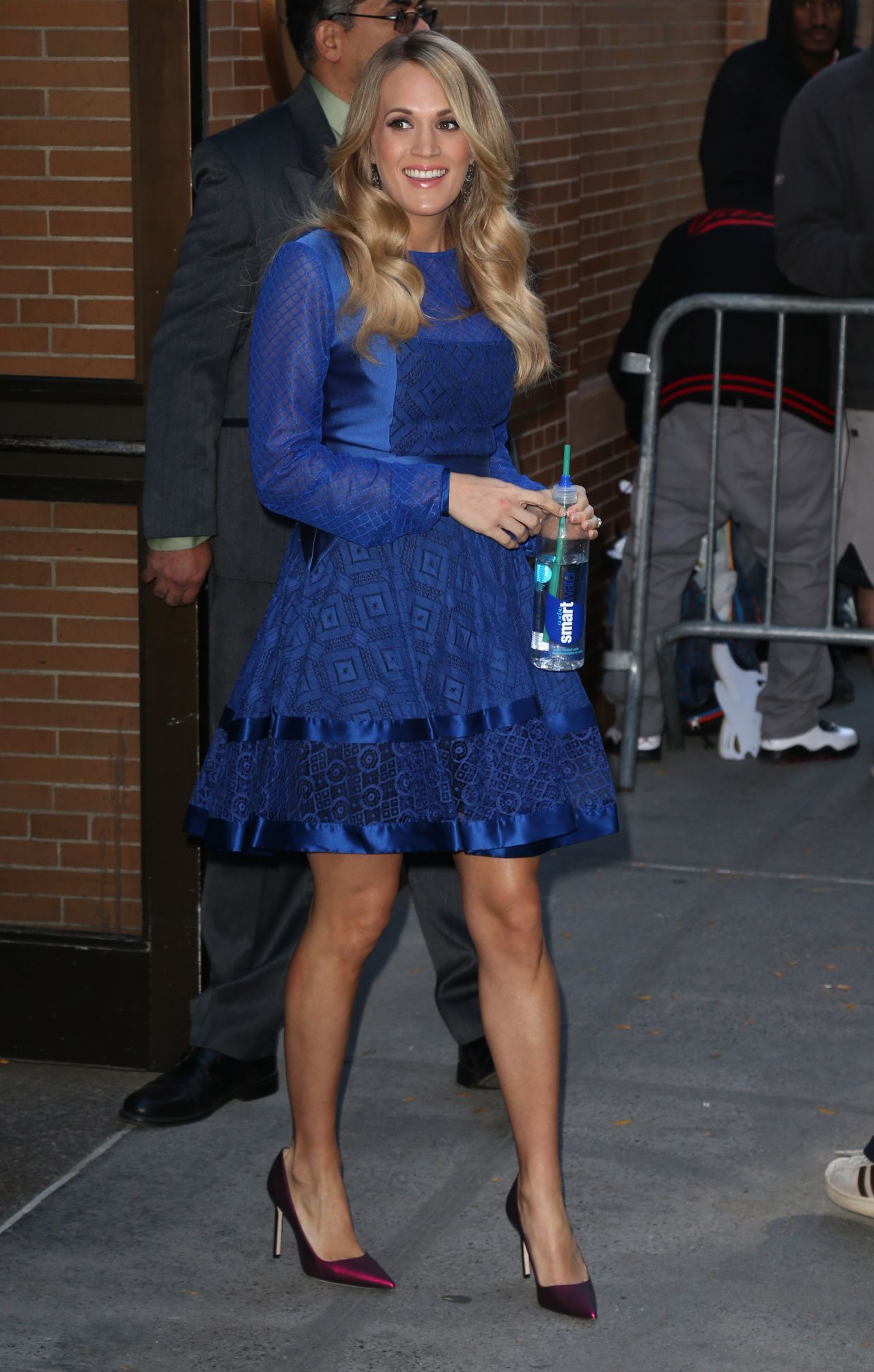 Seriously, though – talk about another color mismatch! Bright colors contrasted between one another are one thing, but Carrie's choice of dark, almost-maroon-almost-purple pumps is a bold contrast to the bright blue of her dress.
What to try: Make it special when you dress up, and don't forget to go bold. By breaking convention in colors and patterns, you define your own style! If Carrie Underwood can tell us anything, it's to be your own designer.
There is nothing un-sexy about rocking denim. All-star pop country singer Carrie Underwood shows us an endless number of ways to use denim to your success, and to your comfort. You can dress it up or dress it down, and still throw on that dress for special occasions. Just think about the effect that dress will have once the world is used to seeing you in blue jeans.