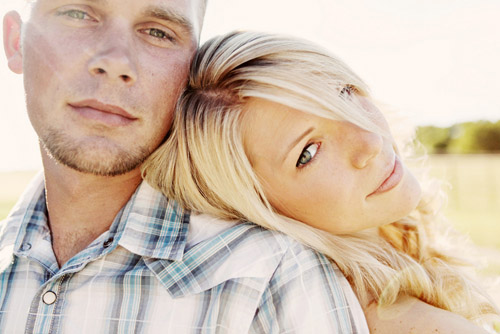 You've just gotten engaged, congratulations! Now you've booked your photographer for your engagement photos and you want them to come out perfect. As with many things, you should plan your photoshoot so it can perfectly capture both you and your fiancé's personalities and of course the love you share. Your photos will never seem genuine if you are unhappy or uncomfortable with what you are wearing. Here are some tips on how to dress to achieve the perfect engagement photo.
MUST READ:  How to Handle Parents Who Are Not Happy About an Engagement
MUST READ:  Really: Is A Proposal Post-Pregnancy In Poor Taste?
Pick clothing that flatters your body type. It doesn't matter what's currently in fashion, what should be your utmost concern is whether or not the clothes you pick will be flattering for your body type. If you pick a dress or outfit that makes you uncomfortable, you're going to be spending the whole time worrying about how you look rather than capturing the moment. Don't worry about if the clothes are too tight or too baggy, instead worry about how you feel in them. If you feel perfect the photo will portray that.
Pick proper outfits for the season. Don't pick a cute little sundress if it's the middle of winter or don't wear a chunky sweater during the summer heat. If your photoshoot is outdoors, you want to choose your clothing accordingly. You don't want to look miserable in your photos because you picked the wrong clothes for the weather.
Hire a professional for your hair and makeup. Another thing you don't want to worry about is messing with your hair and your makeup. If you can hire a professional to do your makeup and hair it's one less thing for you to worry about. If hiring a professional is too expensive, ask a friend for a favor.
Coordinate outfits with your fiancé. It's not necessary to be matchy-match but your fiancé but you should coordinate to a certain extent. Wear colors in the same theme or perhaps where the same type of outfit with different colors. How imbalanced would it be if you wore a cocktail dress while he's in jeans and a tee? You want to display in your photo that you two are a perfect match.
Be smart with your accessories. You want your engagement ring to be the center of attention when it comes to accessories so keep the rest at a minimum. Don't wear large earrings or chunky statement necklaces. Simple is always best.
Avoid white or khaki colored clothes. If you have a pale complexion, avoid wearing white or light khaki colored clothing. It will wash you out. Instead embrace bolder colors.
If all else fails and you are still not sure what to wear it may be time for some professional help. Speak with your photographer for some tips and tricks. They can help you to showcase the best of you in your photos. Don't worry about pestering them about getting some great shots, they also want to have great shots for their portfolio so they will work with you to help you achieve what you and fiancé want and desire.