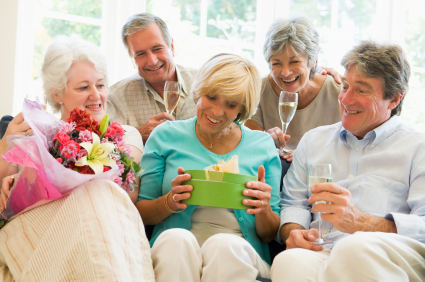 A secretary is that person that we almost never pay attention when we walk into an office but in fact is it she who makes all thing run smoothly, the do it all woman, that persons to whom everybody goes when something impossible and urgent is needed. She is the gatekeeper of all documents and secrets of the company.
Location
The best location for a secretary to have her retirement party is probably at the office where she lived and worked so many years. In that way all the colleagues may attend the party even those from more distant departments.
If you choose an outside location, you may want to consider a nice restaurant or a local café that she likes close to the work place. Make sure it's a familiar place that is connected and remembers her of work. For food you can consider finger food, a candy bar and of course the favorite food of the retiree.
Theme parties
Make it fun. Decorate with all kinds of office supply; you can make a cake in the shape of a file or stapler. Add colorful balloons and ribbons. Another fun idea would be to transform the party into a funeral where everybody is sad to see such a good professional leaving. Permanent vacation is a theme party loved by all since is the perfect opportunity to wear Hawaiian shirts and exotic drinks. After all, such a theme is fitting perfect with the life that awaits the retiree.
What to offer her as a gift?
The most appropriate gift for a secretary must be a trip. Most retirees talk extensively about traveling. If your secretary colleague or employee expresses her interest in traveling, you might consider buying her a travel-package. Additionally you should consider travel books or engraved language's tags, or maybe a travel check to spend it in her journey.
Other ideas for gifts may be: personalized objects – clocks, mugs, charms bracelets. Another special gift would be a piece of jewelry because all women love jewelry.
It's important to take your time and put all these plans together. Ask a few colleagues to help you with the tasks and plan ahead. It will take you up to 5 weeks to get it done.