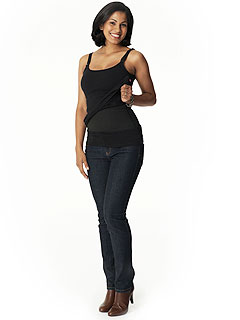 Having a child is one of the greatest women can do with their lives. Creating life and giving birth are amazing and nobody is as tough as a new momma who just spent hours in labor and delivery. After nine months of eating for two, you may have overdone it a bit, or struggle with accepting your new, post-pregnancy body you may start to feel your self-esteem lower or only feel comfortable in sweat pants. Being sexy doesn't seem like a reality for you anymore, but it doesn't have to. Some of the gorgeous bodies we see on TV are actually thanks to shapewear pieces.
What is shapewear and what does it do?
Shapewear pieces are typically made out of high-tech fabric that help smooth or transform your current body shape. So if you're struggle with a post baby tummy pooch or if you're experiencing some extra jiggle in your thighs wearing a shapewear piece can help tuck that pooch in and keep that jiggling from ever happening!
For Smooth Torso Lines and Flattening Your Tummy…
You'll want a high waisted shapewear piece. This will smooth out any bumps, lumps or rolls you have and make you look amazing in your little black dress again. If you're just trying to smooth things over, look for a high waisted shapewear piece with mem constriction. If you're looking for a more dramatic look you should look for a strong constriction, this will suck in your stomach for you whereas the medium constriction just smooths it out. Bonus points are awarded to high waisted shapewear pieces for also erasing those not so lovely love handles.
To Have Nice, Toned Looking Legs…
Find a pair of tights that have shapewear built in. Wearing a separate pieces going to cause some unwanted friction between the two and as a result you'll end up with some holes in your tights. ATTENTION LADIES: Holies in your underwear or tights does not make it lingerie (cough mom cough cough)! It'll also cause bulking and discomfort in general.
For Full Body Shaping…
Get a full bodysuit (I know, shocker)! These full body suits can flatten your tummy, tone your legs and booty, lift your boobs and tone your back. Unlike the single pieces mentioned earlier, the body suit morphs your body into one single, new, sexy shape. These are perfect for the mommy who is wanting to tighten up all over, but hasn't gotten there yet.
For an Hourglass Shape…
Invest in a corset. Corsets take us back to the olden days when women weren't allowed to work, but damn did they look fine at home. A corset can help you achieve that small waist you had. If you get a lace up corset you can determine yourself how dramatic (aka another way of saying tight) you want it.
If You've Got Some Extra Flab in Your Arms…
There's shapewear for that too! Keep in mind these pieces do cover your arms, so you shouldn't wear them with a strappy tank top unless you want everyone to see your shapewear piece. Wear these with tight fitting long sleeved shirts or a long sleeved dress. They shapewear will keep it from jiggling and make it looked tone. But your arms will start getting toned themselves once your baby starts growing. Those little suckers grow fast, you can just start curling them instead of rocking them to bed.
Shapewear is an easy way to help boost your confidence back up after having a baby. To make your shapewear experience enjoyable, make sure you get a size that fits you. Don't try to get a size smaller to feed your ego, you're bigger now because your body just went through an incredible journey, make sure you dress it accordingly. If you start to suspect that your shapewear is too tight get rid of it ASAP. We don't need you constricting yourself into urgent care. Be safe our new mommy's and feel sexy again!