You were killing it all week. You didn't skip a workout, you didn't skip a meal, you drank your water and your mindset is strong. You are achieving your fitness goals. Good for you!
But we all know what happens once Friday night arrives. Co-workers invitations, friends night-out, or a date-night with your love. It sounds fun, and you deserve it. After all, you busted your butt off in every possible way this past week. There is just one lil' problem: you wanna have a drink! And there is absolutely nothing wrong with that, except there are drinks over 600 calories (a 9oz. Mai Tai for example)! You are better off eating a hamburger. Trust me!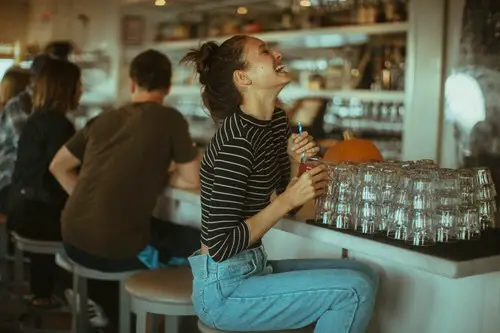 So, what's it gonna be? You are just gonna sit there watching your love or your girls drinking the night away while you count in your mind the calories they are consuming? That's one option. Or are you just going to give in and consume all the calories you restricted from the entire week? That's another (lame) option. Or, you can order a drink (or 2) that goes a little better with your fitness goals and have as much fun as everybody else (not that consuming alcohol is necessary to have fun in the first place).
But, everything tastes sooo delicious! What can be delicious and low-cal? Unless you are a cocktail encyclopedia, you might find yourself struggling about what to order. But I got you! Here is a little list of 5 drinks that are fitness friendly and totally delicious at the same time. Take note!
1. Champagne: This might sound fancy for a night out at the bar, but girl, you are fancy! 4.1 oz. of champagne have only 78 calories. You cannot beat that!
2. Vodka martini: A martini is classic, and the best part is that a serving of 2.5 oz. is only 150 calories.
3. Manhattan. A mixture of whiskey and sweet vermouth that makes only 135 calories for a 3.3 oz. Not bad at all. Plus, the cherry on top. Enjoy.
4. Mojito: This is a good one. Lime juice, light rum and soda water sound simple, but girl, it is the bomb. And it is only 122 calories for a 3.5 oz.
5. Skinny Margarita: My absolute favorite! With the skinny version of this delish Mexican drink, you trim hundreds of calories. Stick to the basics: one shot of tequila, the juice of 2 limes, and ice and frosted with a pinch of salt. Its only 170 calories. Totally worth it!
You know what the coolest part of al this is? If you drink one of each of these drinks in one night, you will have consumed around 650 calories. The same as if you would have had just one Mai Tai or a large Cosmopolitan! There is no reason to sabotage your own fitness progress. Go out, have fun, have a drink (or 5), and enjoy your weekend with no regrets!