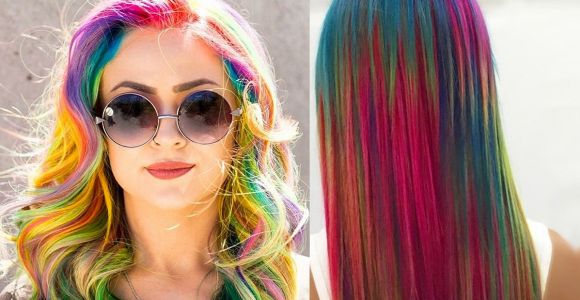 1
Because it's fun
Hey! Wild and wacky is in! And what's wilder and wackier than Blue hair? Oh, and that rainbow hair is fabulous! And those red reds on Goths, beautiful! And lately, purple has been the rage! It's just fun!

2
It's also a gamer thing
Gamers enjoy emulating the characters they play. It's like their gamer identity. It makes a fun statement. And, let's face it, we would all really rather be at home immersed in the latest game. But that's not always possible. So why not bring a little of the game with you everywhere you go?

3
It's sexy
Gaming has changed the way we view sexy. It's not just how down to earth you can look. Sometimes sexy is a little more playful. It's a little more anime. It's good to switch things up. Be adventurous!

4
Sometimes it's all about school spirit
Dyeing your hair a crazy color is a crazy good idea for Rally days at school! What are your school colors? Red, white, and blue? Maybe orange and green? Purple and gold? They've now got vivid colors that you can put in your hair one day and wash out the next. No hassle. No long commitment to green hair. Having a little fun with your hair has become almost foolproof!
5
Sometimes you've just got a little rebellion in you
The old timers are a little frumpy. They can't help it. They're old timers. But that doesn't mean you've got to get your frump on with them. You don't want to feel like you're in one of those 70's photos!

6
The world is a colorful place now
Color is everywhere! It's creeping into kitchens with wonderful new colorful appliances in vivid greens, purples, teals, and other wondrous shades. Color is now in cutlery. The hues of bedrooms have been amped up. Color is making its way into dramatic living room statements. Color is everywhere! Why not our hair?!

7
It's a fun way to play with the little ones
The little ones want to play fairy princess for the day. They're running around in wings and fairy princess dresses, using their wands on everything they can enchant! It's great to make it even more fun and magical by changing everyone's hair to shades of pastel for the occasion! It will be the most fantastical fairy princess day ever!

8
It's not just for girls
Football day is here and it's time to show your colors! Boorah! It's time to cheer on your team like no other! Show 'em your spirit! Get into the groove! It's okay, it'll wash out. But there's no day like game day. You've got the jersey! You've got the barbeque going, the chips and dip ready! You've got the beer in the cooler so you don't have to miss a play! Your friends just called and they're all showing up! One of 'em's even bringing potato salad! Boorah! And you are going to surprise them all by having the team colors in your hair! Now that's festive, man! You show 'em how it's done! Boorah!
9
Boys like to play too
Boys don't like to be left out of the fun. Now that Johnny's sister's fairy princess day is over, he wants to mimic his favorite cartoons! His friends are coming over to spend the day in their capes and power toys and they want to nail down exactly which character each one of them is going to be! And what better way to do that than to let them wear their colors on their heads! It's awesomeness! And who knows what the game turns into once they've got a little magic going on?! Changing the color of their hair for a day heightens their imagination, it adds to the power of pretend! Let them have a little fun! Go bright! One can be bright blue, another red, one of them orange, one can be green. Got more boys than you have basic colors? Mix some colors to add to the fun! Just make sure you send them home with notes explaining how easily the colors wash out. Their mother will appreciate the washing instructions after she catches her breath.