Standing at a lanky five feet eight inches, Rihanna has leg to spare. With a personality few celebrities can compete with, and the daring and nerve to rock whatever she wants to wear, there is an envy and admiration of Rihanna that has become legendary.
Rihanna knows her assets. She shows those beautiful legs off, and has figured out some of the hottest ways to lengthen and flaunt that stride. Either you want Rihanna or you kind of want to be Rihanna, so take a quick look at some of her best leggy looks!
This flowy look cinches around the thigh. The bright yellow dress parts dramatically up to the hip, and teaches us a valuable lesson when looking for something leggy: dress slits are coming back with a vengeance, and there really is no such thing as a too-high slit.
When dress shopping, remember that a slit up the front of the thigh can go up much higher than slits directly on the side or in the center of a skirt. Slit-skirt dresses also have a special brand of class that is otherwise hard to pull off with something that shows so much leg.
Sometimes looking leggy isn't about showcasing your legs as much as it is about adorning them. With these sandals strapped all the way up her legs, Rihanna flaunts another bold look. Wrapped in leather straps all the way up her thighs, her shoes become the main feature of her outfit.
Full-leg strap-wrap shoes are a hard find, but you can bet there are plenty that strap up the length of the calf. In either case, be sure to strap them right—wind them tightly enough that they stay up, even if they squeeze your skin just a little bit. There is no way to go wrong with this sexy look. And by the way, Rihanna rocks this look a LOT. There's got to be something to that.
Shorts are always a solid bet for a leggy look, but they don't always have to be that terribly short. This relaxed, Sunday-morning look of Rihanna's shows off eighties-inspired shorts with fray hem, and cup right around the back of the thigh instead of letting things hang out like so many short shorts today.
Coupled with a mensware-inspired blouse, this look could just as easily be rocked with your boyfriend's button-up. Look leggy and be comfortable, too—there is nothing unsexy about this look! Rihanna can't go wrong.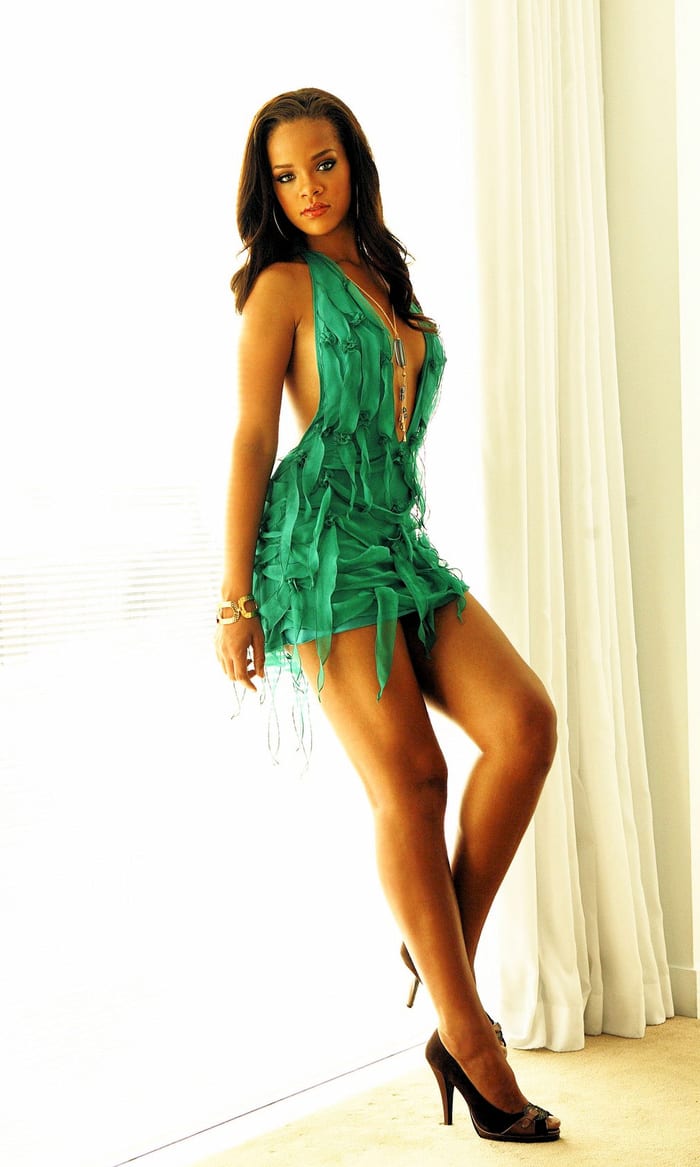 Okay, sometimes you have a ready excuse to make the skirt or shorts a little shorter. Or, in the case of this gorgeous, sashy short dress, an excuse to make it a lot shorter. With textures that draw the attention up the bodice, the dramatic change from the flowy green fabric to Rihanna's sexy legs is about as hot as it gets.
Dresses and skirts this short are almost always tight, which helps keep them in place even when you go out. They leave little to the imagination, but boost your confidence and show off your legs in a very real way. Take it from Rihanna—there is always an occasion to rock the short numbers.
Rihanna shows how boots can be one of the best ways to show off your legs. Not only does this hot red leather draw the eye right in, but the peep of leg in between the top of the boot and the skirt of the dress is a great tease.
Tall boots are popular under autumn skirts or over skinny jeans. But with this option, Rihanna showcases that the boot-under-leg-under-skirt has its own special appeal. The contrast in texture from leather to skin up to skirt is definitely a winning look.
Bringing it all together:
One thing Rihanna rocks consistently to give her that leggy vibe is her collection of killer heels. So rock the leggy look like a pop star, and don't be scared to rock the stilettos. There really is no such thing as too tall to wear heels—Rihanna stays bold at 5'8".
Most of these leggy Rihanna looks are completed by sexy footwear. Heels make your foot look thinner and your leg look longer, pump your calves up and give you a great walk—even if just to keep your balance! And you can be sure that there are heels for every outfit.
Rihanna teaches the lesson that anyone can look leggy. She is no skinny-legged creature of leg gap, but a performer with strong legs that know how to dance. Those thighs are real, and yet she pulls off the leggy look and is even defined by it. In the end, this is a reminder that no matter the body type there is a leggy look for you.