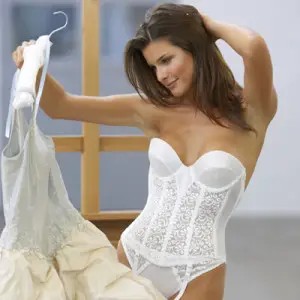 Every bride wants to look perfect for their wedding day. While we all know how beautiful and lovely you are, we know that every bit helps on this special day. When it comes to your wedding gown, you want to wear the appropriate undergarments for the big day. Not only do you want these undergarments to be practical, you also want them to be comfortable as well. So it doesn't always mean that lace and frill are the right answers for you. You must also pick undergarments best suited for the type of dress you will be wearing. A bra for a strapless gown will not be appropriate for a backless dress or vice versa. This article will detail the best undergarments for wedding dresses.
MUST READ:  Trying To Get Into That Dress? Are Wedding Diets Healthy!
The right bra. Picking the right bra is like building the foundation for your flawless look. You wouldn't build a house on uneven ground so why do that with your wedding gown? Your bra should make the girls look the best, lift, and of course provide optimal support. For larger chested women, you will need to find a bra that will support and lift the girls. Smaller chested girls may opt for padded cups that can easily be sewn into the gown by the tailor since they do not need as much support. The bra should also not bulge and the ribbing should not be apparent through the gown.
A corset or shaper. For women who want to give themselves more of an hourglass figure to their body, they can opt for a corset or shaper. These will cinch your waist and can also provide support for your bust. Another benefit of wearing a shaper or corset is that they will in essence smooth out your body which will make your wedding gown look even better. Some women fear they will look frumpy but investing in a great shaper or corset can fix that. Another bonus? You can wear these undergarments under other dresses to give you that va-va-voom shape!
Seamless underwear. The last thing you want to worry about on your wedding day is a visible panty line! When it comes to your underwear, make sure that what you are wearing will not show through the dress and that it is comfortable. Thong or cheeky panties, as long as it doesn't show and is comfortable, that's all that matters. Don't worry about impressing your hubby later on during the evening, you can always change into a sexy number after the festivities are over.
A plunging bra/self-adhesive. These bras are for those women who have more daring dresses. Whether it's a low neckline or a backless dress, finding a no-show bra is important. Nowadays, adhesive bras are a great option. They still provide support, look natural, and for the most part are very comfortable to wear. It is always advised however that you do a test run with the specific bra you have in mind. You don't want to worry about it peeling off during the reception.
MUST READ:  Is Shapewear Damaging Your Organs?