If you're in a long distance relationship, you need to read this. Even if you're not and you're just looking for something to spice things up, then this article is for you. At first it can seem a little daunting, it's much easier to write dirty things with your thumbs than saying them out loud.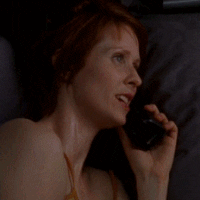 Phone sex brings a whole new level of intimacy to your relationship, especially when it's a voice that already turns you on, narrating a scenario that turns the both of you on. Yes, the dialogue is a back and forth and yes, you're probably going to blush once or twice, but it really is worth the fun.
Set a date. It's easier to plan ahead than to accidentally answer your mom's phone call with your face while using your sexy, sultry voice because she's calling you on the other line. Even if the call goes unanswered, it will bring you both out of the moment and completely kill the mood. So be careful to choose a time when calls will be minimal for the both of you, or find a way to turn off the ability to receive other incoming calls.
Wear what you feel your sexiest in. It can be sweatpants or a lace bra, whatever floats your boat. Ask yourself what you feel the sexiest in and put it on.
Pick a place. Sure, the bed is always a good spot for some hanky-panky, but what about the couch? The kitchen floor with Family Guy playing in the background? Find the place in your home where you're most comfortable and make it your own for the better part of an hour.
Relax. To quote DJ Khaled, this is the key to success. If you go into the conversation worrying about what you're going to say, what you may not say, etc. you're already setting yourself up to fail. Think positive, this is all for fun – it's not open heart surgery.
Take your time. Ease into the scenario so you're not cumming too quickly. This isn't an activity that's done quickly. Starting with something as simple as, "What are you wearing?" will help get the ball rolling.
Tease your partner. The best (and worst) part about phone sex is that you're not there, so it raises their level of desire for you. Everyone wants what they can't have. For example, "If I was there, I would [insert a dirty action here] to you."
Don't forget to touch yourself! Your partner is going to want to hear, in detail, exactly what you're doing to your own body. Even the best masturbators get stage fright, but it's easy to overcome. Are you touching your nipples? Are they hard? Are you using your hand or a vibrator? Are you wet? What do you taste like? Are you hard? How does this make you feel? The more you tell your partner, the better the phone sex.
Dirty words. Don't fear words like "cock" or "pussy" because guess what? You're talking dirty. You're supposed to use those words. You don't want to be technical about it, "I'm inserting my penis into your vagina." That just lacks… everything. Magic happens when you say, "I want you to slide your cock in my tight, wet pussy."
Let your mind explore different fantasies. Be vocal about how turned on you both are and what you're each doing to your bodies. Hold out as long as you can before you orgasm, say everything you've thought but were too afraid to say out loud. Let your breathing intensify and listen to your heartbeat start to pound. Get lost in the moment and go for it.
Climax. That's right, now you get to cum. Have an orgasm, it's ok, you've earned it. Even if you don't cum at the same time, let it happen. You overcame your fears of vocal intimacy and deserve to scream out whatever you want once total satisfaction takes over your body.
Give yourselves a pat on the back for a job well done, you just had phone sex. You achieved climax and experienced satisfaction when apart, so just imagine how great it will be once you're finally together, skin-on-skin, again.