Memorial Day isn't just about snagging great deals on cute tops, electronics, or other gear. It's about celebrating the hard work that soldiers did to keep this country safe and displaying a little bit of patriotism, too. 
If you're like most people in the United States, this holiday also kicks off the start of summer, too. With that in mind, it's easy to see why families and friends across the nation celebrate this day with picnics, barbecues, cookouts, and parties. 
MUST READ: Seven Nail Salon Red Flags You Shouldn't Ignore
MUST READ: How to stop biting your nails the easy way?
With great celebrations comes a great responsibility…to be stylish! Want to kick off your summer nail looks in style? These nail designs would get the seal of approval from Uncle Sam himself, and will work amazingly well with just about any outfit you pick. 
Look #1: Red, White, And Blue Solid Color Nails
Memorial Day is all about showiing a little patriotism, and what can be more patriotic than showing off nails painted in the colors of Old Glory? This look is a classic pick for just about any patriotic holiday and is easy as pie to do. 
Of course, some people might get put off by the idea of going for bold reds and darker blues. That's alright. A quick fix to this issue would be to simply opt for a pastel pink and a baby blue when you get your mani. 
Look #2: Clear Nails WIth Stars N' Stripes On Them
This is one of the many holidays that has a focus on the flag, and let's be honest, the United States flag is a very bold thing to look at. It's oh, so easy to go overboard with the colors, which is why it is so important to balance things out. 
Adding a little nail art to the tips of a standard French manicure is a great way to add some patriotic fun and also keep things reasonably low key. 
Look #3: Red, Silver, And Blue Art Stripes On A White Background
You don't always need to make things too obvious when it comes to your manicure. A subtle nod to the holiday can work just as well, if not better, than many of the other designs that you might see. 
This cool look features fine stripes that "drip" down the nail, giving it a modern art vibe. For moments where you need to add an extra dash of elegance to your look, this will do perfectly fine. 
Look #4: Red, White And Blue Glitter-Dipped Nails
Who doesn't love a little glitter? It's a great choice, but it's also one of those matters that can involve going overboard really quicky. Doing a manicure that features alternating glitter on a full nail covered in glitter can overwhelm many outfits.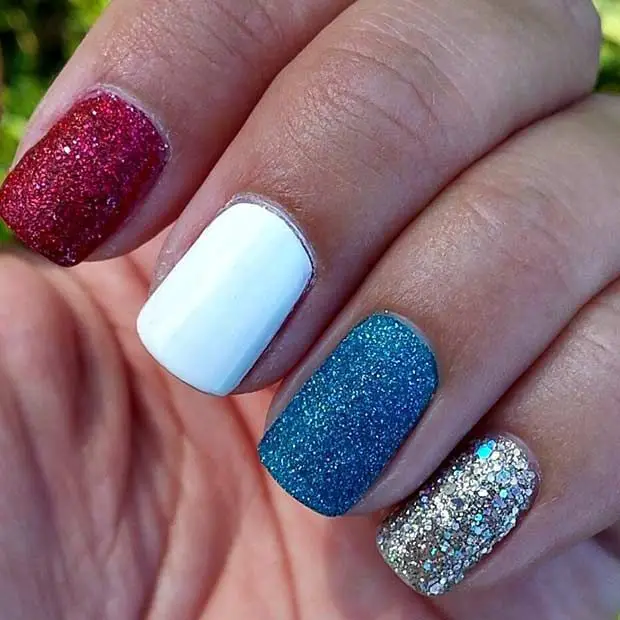 A better option would be to do a glitter ombre, using a glitter polish featuring red, white, and blue glitter pieces. This gives your mani a more modernized look that makes your aesthetic a little more balanced and a lot more fun!
Look #5: Red, Silver, And Blue Dots On A White Background
There's something to be said about the sleek yet retro appearance of layered dots on a white background. It's chic, it's hip, and it's also creative enough to work as a more upscale twist on a holiday design. 
If you want to get into the Memorial Day spirit but don't want to go too heavy-handed on the flag-related themes, then choosing a more subtle option like this will make your look stand out without it being tacky. 
Look #6: Add A Multicolor Star To Your Accent Nail
Sometimes, less is more and subtle is king. If you want to keep things extremely low key without losing that festive flair, then it's a good idea to just stick to adding features on a single nail per hand. Most of the time, the ring finger is the best place to accent a standard French manicure.
Adding a pinch of flair is simple. Just add a star that has a little red, white, and blue into the mix. It'll stand out without getting into problems with HR. 
Look #7: Flag It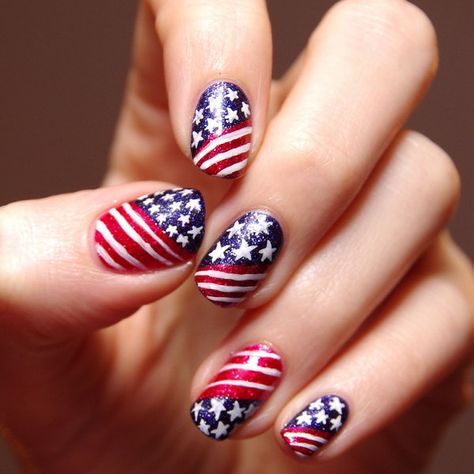 With all the love the Stars n' Stripes gets during this holiday, it's really not surprising that one of the most popular nail art themes for Memorial Day. If you really love the idea of  bold look, why not go all out and paint the stars and stripes on your nails?
Admittedly, this look is one that will drag attention straight to your nails and get people talking. That's why it's a perfect pick for the party where you hvae to go all out.