Bronze leg makeup is simply a high coverage matte leg makeup that leaves your legs looking gorgeous and flawless. It is considered trendy and very popular among young people. These makeups have spray or liquid formula that focuses on hiding blemishes, scars or veins of your legs and gives a flawless look. It is the best choice for those who want to avoid tanning.
RELATED: Legs For Days: How to Make Your Legs Look Hotter
RELATED: Eye Makeup For Smaller Eyes
When using bronze leg makeup, you need to exfoliate your skin before use and keep in mind to shake the composition well before using it. Spray legs from estimated 5 inches away in a sweeping motion ensuring you use it lightly around the knees and ankles. Use a mitt to blend evenly on legs and around feet and then let it dry before putting on clothes. Do not scrub while showering to ensure the makeup lasts but just pat or air dry.
Therefore, spending your time and money on bronze leg makeup can be a better choice over getting your body tanned. Here are some of the well-performing bronze leg makeup in the market.
Top 5 Best Bronze Leg Makeup
| Product Image | Title | Brand | Best Feature | Buy |
| --- | --- | --- | --- | --- |
| | Sally Hansen Air Brush Legs Medium Lotion | Sally Hansen | Dries out quickly | Click Here |
| | Fake Bake Flawless Self-Tanning Liquid | Fake Bake | Creates even tan | Click Here |
| | Tan Physics True Color Sunless Tanner | Tan Physics | Captivating botanical scent | Click Here |
| | Jergens Natural Glow Instant Sun | Jergens | Gives a natural colour | Click Here |
| | SKINERALS Californium Self Tanner Mousse | Skinerals | Safe for all skin types | Click Here |
1.    Sally Hansen Air Brush Legs Medium Lotion
It is also known as liquid stockings. It is well known for its ability to cover your skin issues and give a beautiful bronzy skin and to add on that it is not thick or sheer. This lotion has a texture that is so smooth and blends on the skin so well. It also does not transfer to your clothes.
It gives airbrush coverage to your skin as the name suggests, which has a radiant that is so natural. Once the lotion completely dries, it will go a darker shade, so it is highly advisable you purchase one shade lighter than your current skin tone. The cream is waterproof; hence you can go to the pool parties without worrying about your makeup chipping off.
Before using the lotion, you need to shake it well the spray directly into hand and apply on legs and feet. Blend evenly and thoroughly and then allow it to sit for 60 seconds before dressing. When removing the makeup, you only need to use soap, water and a washcloth.
Pros
Has a lightweight formula
Very easy to use
Waterproof and transfer-proof
Dries out quickly
Long-lasting and natural-looking
Instant sun-kissed glow
Free from UVA and UVB rays
Cons
Can stain your cotton clothes a lot
Shade gets darker when it is dry
Does not cover up veins
BUY NOW ON AMAZON
2.    Fake Bake Flawless Self-Tanning Liquid
When applying this formula, you are supposed to use along with a professional mint to achieve a perfectly even tan. This dual function assists in making the application easier, hence providing an instant golden tan. It is fast drying as well as absorbs very fast, but the formula is transfer-resistant thus can be worn throughout the day. Fake Bake sunless tanners have a built-in colour guide, a dark temporary colour and when applied it shows where it goes on your skin so that there is no chance of having streaks. It, therefore, gives you the perfect bronze glow any time of the year.
It can last longer because it is formulated with Fake Bake's exclusive triple tan formula that is DHA bossed by DMI and Evythulose hence Fake Bake has become a leader in self-tanning and spray tanning products. It is best for all skin types and skin tones. It has a pleasant fragrance with a tropical scent. It contains no artificial preservatives and is free from paraben.
Since Fake Bake is not chemically based, it, therefore, does not turn your skin orange or leave a bad odour or stain your clothes. When applying the makeup, you need to spritz flawless onto the velvet side of the mint and apply to skin that is clean but avoids using it directly to the skin. You are encouraged to apply in long gliding movements while covering all your body and face.
Pros
Dries quickly
Easy to apply
Creates even tan
Natural tan
Non-greasy
Tropical scent
Paraben and DMDM Hydantoin free
Cons
Fades very fast
Strong scent
Stains clothes a lot
BUY NOW ON AMAZON
3.    Tan Physics True Color Sunless Tanner
Is defined as a revolutionary sunless tanner skin care system that took many years as well as countless hours of testing to perfect. It uses ingredients that are safe and pure, combined with advancement in technological innovation to deliver beautiful results that make it stand far above its competitors.
Tan Physics lotion is a dual-action skin care system that is formulated to provide a rich and natural tan while delivering serious and nourishing skincare. It is the only bronze leg makeup that contains the highest quality sunless tanning ingredients. It contains sugar-based tanners that are formulated to provide you with a real and long-lasting tan.
The formula also contains tan enhancing peptides, amino acids, caramel and fruit extracts that help increase the depth and natural colour of your tan. The formula works so well with all skin types, tones and complexions. It works gently on your face and your body. It is easy to blend as well as simple to apply.
What makes Tan Physics perfect is due to the following ingredients:
Argan oil- helps protects the skin against wrinkles as well as reduce the appearance of crow's feet. It also targets dry skin; fades stretch marks and reduces irritation of the skin.
Matrixyl- it is deeply moisturizing and enhanced to ensure the skin looks luminous and youthful. It also activates the natural production of collagen by the skin, refiling wrinkles naturally from within the skin
Coconut oil- helps in nourishing your skin and providing a protective barrier on your skin
Caramel and sugar-derived tanners- are fresh, pure and certified organic
Organic Aloe Vera- soft, supple and nourishing
Hydrolyzed Collagen- enhances a tighter, firmer and healthier skin. It also assists in replenishing and renewing your complexion
Pros
Flawless natural glow guaranteed
Anti-ageing moisturizers
Best for all skin types
Captivating botanical scent
Great anti-ageing moisturizer
Saves your money, time and aggravation
Cons
Turns your skin orange
Very streaky
Very expensive
BUY NOW ON AMAZON
4.    Jergens Natural Glow Instant Sun
This formula works uniquely with your skin tone to mimic results from the natural sun. It is airy, moisturizing self- tanning mousse, which allows for a precise even application that takes 60 seconds to dry. It is available in two shades. This mousse formula is tinted such that you can see where you have applied it.
When using this formula, you are required to pump the tanning mousses into your hands and smooth evenly over clean and primed body skin. You apply the right amount around knees and ankles and then wash your hands immediately after applying to allow your skin to dry before you dress up.
Colour develops instantly and deepens over the next several hours, creating a flawless and natural-looking tan even when the beach is miles or months away. You should, therefore, use once for a natural look and repeat the next day if you desire a deeper colour.
Pros
Absorbs quickly
Good moisturizer
Gives a natural colour
Good for sensitive skin
Affordable
Nice scent
Cons
Could take long to dry
Sticky
BUY NOW ON AMAZON
5.    SKINERALS Californium Self Tanner Mousse
Californium contains many natural and organic ingredients to provide the safest tan. It is perfect for lighter skin tone and a perfect one to get a healthy, natural glow that would last for up to 7 days if you fail to expose your skin to the harmful UV rays that could result to premature wrinkles and skin cancer.
To achieve a natural, gorgeous glow without streaks or blotches, you should, therefore, apply californium at night and then shower in the morning. This self -tanner mousse is characterized as being non-greasy, light, quick to dry and has a soft, pleasant smell. It contains natural blend such as lavender oil, orange peel oil, vanilla bean extract and shea butter.
It is also free from cruelty, sulphate and paraben, and it also offers a vegan skincare solution. Skinerals ensures you get back the beauty you were born with through the full skincare line. It is safe for men, women and children because it contains all-natural and organic ingredients.
Pros
No streaks or blotchiness
Offers a good-natural looking glow
Light, pleasant scent
Safe for all skin types
Cruelty-free, paraben-free, gluten-free, dye-free
Cons
BUY NOW ON AMAZON
Considerations for Choosing Best Bronzer for Leg Makeup
Everyone has different skin type, which should be a consideration to avoid choosing bronze that does not match with your skin type. Bronzers have a number of uses such as contouring, a darkening foundation that is too light or providing an overall no filter look on legs when you want to go to the beach and show off your flawless and gorgeous legs.
Since there are different types of bronzers out there, it is important you keep in mind which bronzer is right for you. Here are some of the factors to consider before going for bronze makeup for your leg.
This is the most crucial factor in deciding on a bronzer for your leg. For very fair-skinned skin, you should not go for something too dark. If you have darker skin, you need a shade that will show up. For a natural look, you need to follow the golden rule of going two shades darker than your skin tone.
If your skin has a warm undertone, you can use most golden-brown bronzers. For cool undertones, you should stick with neutral shades and avoid red-toned bronzers. Yellow undertones work well with peachy and pinker bronzers. Therefore, it is very important you get the best and right shade, and it might take some trial and error. Therefore, a lot of switching should not discourage you.
You must figure out what kind of bronzer is best for your skin.  There are different types of bronzers, which include loose powders, pressed powders, liquid, cream, stick bronzers among many more. Your skin type determines the type of bronzer you choose.
For oily or acne-prone skin, then powder bronzers are your best preference. For dry skin, you can use powder, but liquid or cream blushes always last longer. Be ready to test a few types out to see which one works for you.
Amount of shimmer in your bronzer is another factor to keep into consideration. Other while others prefer the matte look. It is your own decision to make but always put in mind that shimmers reflect lots of light and can make oily skin look even more oily. Since shine dominates the world of bronzers, be sure to check how it looks in natural direct lighting.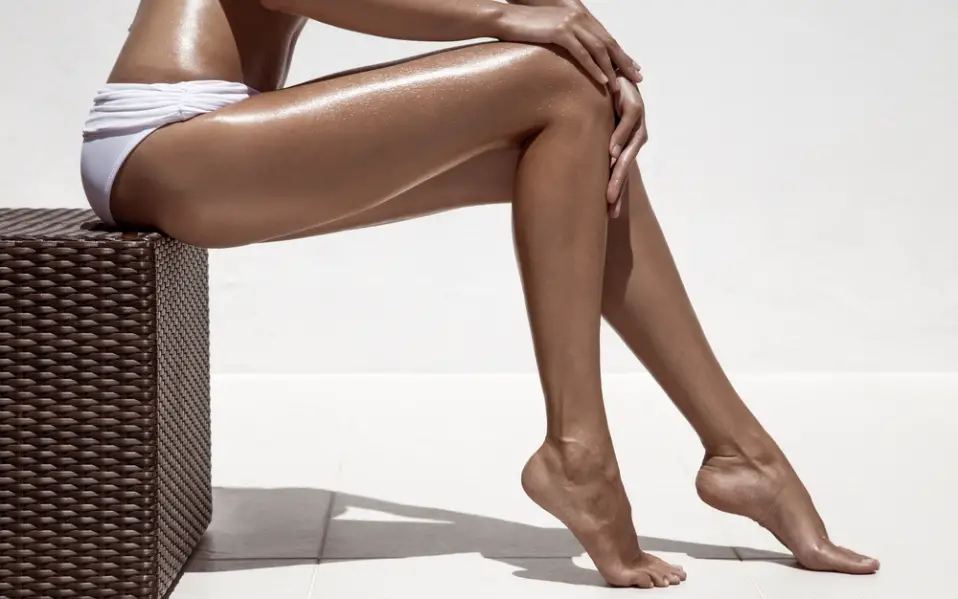 The Bottom Line
Bronzy make up involves applying bronze make up to your legs, which mostly lasts until you have a shower. As discussed above, using bronze makeup on the legs is essential because the makeup makes everything easier such that you can do your make up however you like, and you do not need to worry about your skin colour if it will get darker or lighter.
Also, you can get an instant bronzy tanned look to your legs instead waiting under the sun for hours. There is also no need to worry about the harmful chemicals applied to your skin since it is just making up and you can wash it off anytime. Since everyone desires gorgeous and flawless skin, legs being our focus today, we need to invest in quality bronze products that are free from harmful chemicals. Therefore, it is up to you to research the best bronze type for our legs and slay those bronzy legs.
Sweetiebomb.com is a participant in the Amazon Services LLC Associates Program, an affiliate advertising program designed to provide a means for sites to earn advertising fees by advertising and linking to Amazon.com. We may earn a commission when you buy through links on our site.