There's no magical product that can get rid of large pores from your face overnight, but there are things you can do to minimize the appearance of these pores. You can reduce the appearance by using the best foundation for large pores.
However, choosing the best foundation for large pores can be challenging, with so many types out there. So, how do you choose the right foundation for your large pores? Don't worry! We got you covered. In this guide, our experts will be reviewing the best foundations for large pores that smooth out skin texture, giving you a natural finish that lasts all day. Let's dive in.
Comparison Table For The Best Foundation For Large Pores
Best Foundation For Large Pores
Here are the five best foundations for large pores that are loved by consumers and are available at the moment. Most of these products work to soften the skin for long-lasting makeup. So, without further ado, let's these foundations.
Key Features:
Ideal for all skin types
Matte skin finish
SPF 18 induced
Available in 40 different shades
Maybelline Fit Me Matte + Poreless Liquid Foundation is designed for those who want to refine pores and get a smooth finish. This foundation is dermatologist-tested, non-allergenic, and non-comedogenic. You're sure to get a perfect fit for your skin tone as this foundation comes in around 40 different shades for all types of skin color and tones. From "Fair Porcelain" to "Light Beige" to "Classic Ivory" to "Golden" to "Mocha" to "Caramel" to "Espresso," Maybelline covered their bases.
What makes us believe this foundation is one of the best for large pores is the fact that it's a silicone formulation: silicone can diffuse the skin texture and give a pore-blurring effect, which makes the skin look smoother. This fantastic product also features a broad spectrum of SPF 18, which protects your skin from the harmful effects of UVA and UVB exposure.
It'll visibly shrink small to large pores with a smooth, liquid matte finish that looks flawless but natural. Although it's a liquid formula, this foundation contains micro-powders, which absorb grease and oil as the day progresses. To use, you simply apply it over your face and blend with the help of your fingertips or an applicator. 
Things we like about this foundation:
Great for combination skin
No additives/allergens/oils
Conceals large pores without heaviness 
Things we don't like:
Not suited for dry skin
Works best with a primer
Verdict
Maybelline Fit Me Matte is a good fit for people with large pores looking for a foundation with medium to full coverage in a wide range of tones.
BUY NOW ON AMAZON
Key Features:
All-natural organic ingredients
No artificial colors 
NO harsh chemicals
Non-greasy coverage
BaeBlu Organic Lux Liquid Foundation is an excellent pick if you want a perfect finish. This foundation doesn't have any pore-clogging ingredients and won't sink in your pores. It will conceal your large pores, wrinkles, fine lines, dark spots, and everything else in sight. It is made without any artificial colors, fragrances, or preservatives, and it's vegan, cruelty-free, and gluten-free. 
The foundation is made in the United States formulated while following the best practices as well as adhering to the highest standards. The use of aloe vera in the making indicates that it is a good foundation for sensitive skin. It offers full skin coverage, erases all imperfections, and restores the smoothness of your skin.
There are 16 different shades you can choose from, and they range from the lightest color of 'Vanilla' to the deepest tone of 'Kona.' The company provides excellent guidelines to help you find the right color for your skin tone and undertone.
Things we like about this foundation:
Natural or no synthetic ingredients
Non-greasy and non-toxic
Lots of color options
Suitable for dry and sensitive skin
Things we don't like:
May not last for a long time
The smell is a turn-off for some people
Verdict
The BaeBlu Organic Aloe-Based Liquid Foundation is produced using an advanced anti-aging formula that balances the dry spots and clear large pores. 
BUY NOW ON AMAZON
Key Features:
No Bismuth Oxychloride 
No preservatives or parabens
Natural UVA and UVB sun protection 
No alcohol, talc, additives, or toxic chemicals
The Bella Terra BB Cream is excellent for those who have large pores and fluctuating skin. It's famous for having everything you need in a foundation. In fact, it surpasses the expectations of a foundation. It's a tinted moisturizer, concealer, and mineral makeup foundation in one container.
This product is flexible for everyday changes in your skin's needs. The all-natural formula is made from pure magnesium, mica, and zinc. This BB cream is mineral-based, and natural with no parabens, talc, alcohol, preservatives, or chemicals, making it perfect for sensitive skin. Its genuinely processed SPF layers protect your skin.
Its lightweight formula enables it to hide your blemishes and, at the same time, not feel like too much on your skin. It even works more efficiently with other makeup, creating a thick but non-greasy or oil layer. You don't have to worry about Bella Terra BB Cream melting with other makeup because it's certified to stay on the skin throughout the day.
Things we like about this foundation:
Natural and mineral-based formula
Buildable for a custom coverage
Conceals almost everything
Things we don't like:
Only six shades available
The pump is designed poorly 
Verdict
Bella Terra BB Cream Tinted Moisturizer works best in making the skin look healthier and younger with a gorgeous tone. This product is perfect for people with large pores. It is 100% worth your money.
BUY NOW ON AMAZON
Key Features:
Non-acnegenic
Dermatologist-Tested
Paraben-free
Enriched with vitamin C 
Clinique Even Better Makeup Broad Spectrum SPF15 is a creamy textured foundation for large pores and wrinkles and fine lines. The foundation offers broad-spectrum sun protection, meaning your skin is protected against both the UVA and UVB rays of the sun. 
It balances different makeup shades with just a massage. More so, it's known to improve skin texture, tone, and health. It can revitalize skin cells to minimize large pores with continued use. What amazed us about this foundation is that it improves your skin clarity, diminishes age spots, and balances out your skin tone.
The formula is enriched with antioxidants and vitamin C. The product can cover dark spots, and the SPF improves the appearance of discolorations. Women with hyperpigmentation issues have used Clinique without any complaints. It's a very lightweight formula just by the way, which means suitable for even oily skin.
Things we like about this foundation:
Superb and easy to apply
Even color and makeup tones
Suitable for all skin types
Things we don't like:
Not all-natural
Might trigger allergies to dry skin
Verdict
The Clinique Even Better Makeup is a light foundation that can give your skin a full coverage. This foundation is designed to improve your skin's appearance by eliminating imperfections.
BUY NOW ON AMAZON
Key Features:
Broad Spectrum SPF 25
Dermatologist-tested for safety
Sensitive skin-tested
Non-comedogenic
Dermablend takes care of your large pores and other skin conditions with this smooth liquid foundation. This product offers a medium level of coverage, and it also hydrates your skin for the entire day. Your skin will look natural, and your pores will be minimized immediately you apply this product. The foundation covers not only large pores but also hyperpigmentation, dark spots, rosacea, redness, and more.
Moving to the shades, the foundation has 15 shades and includes options for fair (but not very light) to dark skin tones. This liquid foundation can make your large pores less visible. Dermablend Smooth Liquid Foundation also contains a broad spectrum of SPF 25. So you're fully protected from any harmful UV rays. It's dermatologist-tested, non-comedogenic, and doesn't contain ingredients that could trigger skin irritations or sensitivities.
Dermablend Smooth Liquid Foundation is free from phthalates triclosan, parabens, and sulfate. It helps the tightening of monster-size pores in the long run. Continuous use of this product is safe, and dermatologists recommend it. Dermablend Smooth Liquid Foundation proves handy, making this product the perfect choice for an instant makeover or retouch.
Things we like about this foundation:
Tightens Monster-Size Pores
Excellent range of shades
Suitable for normal to dry skin types 
Things we don't like:
Weak Concealer Capacity
Cannot provide all-day hydration as claimed
Verdict
This foundation hydrates skin and covers trouble spots, giving our complexion a smooth, dewy finish. It also helps block damaging UV rays with broad-spectrum SPF 25.
BUY NOW ON AMAZON
What Are The Causes Large Pores?
First, You need to know what pores are? Pores are tiny openings in the skin that serve as an exit route for oils and sweat. Having excess oil sebaceous collected in the pores is one of the major causes of large pores. When the oil stays in the pores, it stretches it and makes the pores larger. Some other causes of large pores include increased hair follicle volume and loss of elasticity around that area. However, there's nothing much you can do about large pores, but you can improve the appearance if you know what you are doing.
Tips for Minimizing Large Pores
We have a few pieces of advice for you when it comes to minimizing large pores. Now, outside of applying foundations, you can reduce or tighten large pores with these quick and easy tips.
Make it a habit to wash your face at least twice a day using gentle skincare products to minimize large pores. Washing your face removes dirt or oil, as well as prevents the pores from clogging.
Exfoliation is needed if you have oily skin. Try to exfoliate at least twice a week. It will prevent pores from clogging, eliminate dead skin cells, giving you younger-looking skin. Don't overdo it. Excess exfoliation will dry out your skin and result in excess oil production.
Enjoying the sun early in the morning is a good thing, but if you have large pores, you should limit sun exposure. For this simple reason, make sure you consider wearing sunscreen that can offer extra protection against sun rays and the spots they can leave on your face.
You shouldn't sleep with your makeup regardless of your skin type. If you have large pores, it can give you varieties of skin issues from clogged pores to irritations and even wrinkles. Sleeping with your makeup can also stretch your pores even more and leave the surface of your skin more unaesthetic.
Use nose strips to reduce the oil that might be clogged in the pores. Even if you can't use these daily, two or three times a week can do miracles for your skin.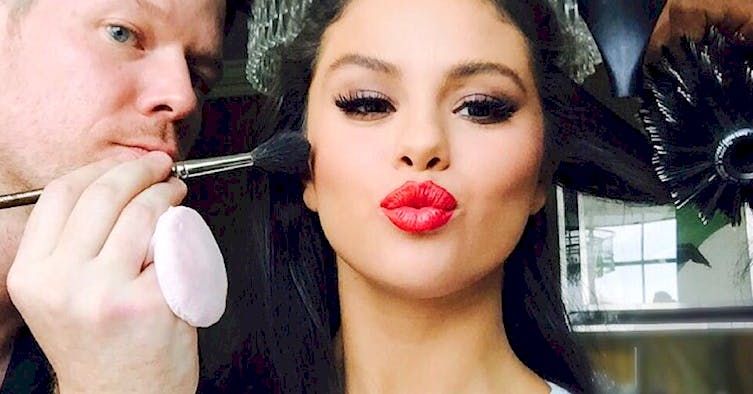 Guide To Chosen The Best Foundation For Large Pores
You need to choose your foundation wisely when you have skin with large pores. Below are things to take into account when choosing the best foundation for large pores.
Foundation Type
The type of foundation you plan to buy matters a lot. There are liquid foundations, pressed-powder foundations, mineral powder foundations, and mineral foundations. Consider liquid or powder foundations if you want to go for the perfect tone with capacity for large pores.
Particular Features/ Terms/Phrases
Have a lookout for certain features, terms, or phrases if you want to secure the best foundations for skin with large pores. Examples include "highly nourishing," "matte finish/HD finish," "deep and natural tones," "non-greasy," "silky," "anti-aging," "natural ingredients," "satin," "highly-protecting," "high toning quality," "flawless," and many more.
You must stay away from harmful formulas. These formulas tend to irritate your skin no matter what skin problem you're dealing with. When checking a foundation for large pores, if you see subtle formulas like "dewy," "illumination," and "matte" formulas in it, don't buy the foundation. Recent researches report that these formulas expand pore sizes. 
You should also consider the price of the foundation. Keep in mind that this is a constant investment that you will have to make, and you are going to be using the foundation almost every single day, and if your skin gets used to its benefits, you might want to use it for months or even years. So, it's vital to choose a product that you could afford for a long time.
Frequently Asked Questions
Why is my foundation not covering the large pores on my skin?
Most people face this issue because foundations are very thin and light these days. You can use a concealer to hide the larger pores. If this is not working, try to use more amount of foundation or consider having a coat of primer on your face. 
What should I do if I have flaky skin after using the foundation?
Dehydration causes flaky skin. You need to consider a light moisturizer if you have flaky skin. Apply moisturizer before adding the final coat of the foundation as this will maintain the hydration, and you will no longer face the issue of flaky patches on your skin.
What are the foundations to avoid?
Avoid foundations that have illumination, dewy, and matte formulas. These foundations aggravate large pores and cause blockage in the pores. Overly-greasy, creamy, and streaky liquid foundations stick in the pores and should also be avoided.
Is Sun Protection Capability important when choosing a foundation?
Yes, it is important. You need a foundation to work as sunblock if you don't want excessive sunlight to run your look or you want to save your skin from sun rays.
Can I apply a foundation to my dry skin?
No, you need to moisturize your skin before you put on a foundation. We'd recommend an excellent hydrating moisturizer or serum that's light on the skin surface and allows the foundation to glide over smoothly.
Final Thoughts
As you can see, choosing the right foundation for large pores might not be the easiest decision to make, but it is an important one. You can minimize the appearance of large pores on your skin now that you have the list of best foundations for large pores.
Moreover, the foundations we've reviewed in this guide are good for skin health. They are very natural looking, so you will most likely love them from the first time you use it. But, you will need to adapt all your beauty routine to accommodate your skin's needs and reduce the large pores along the way.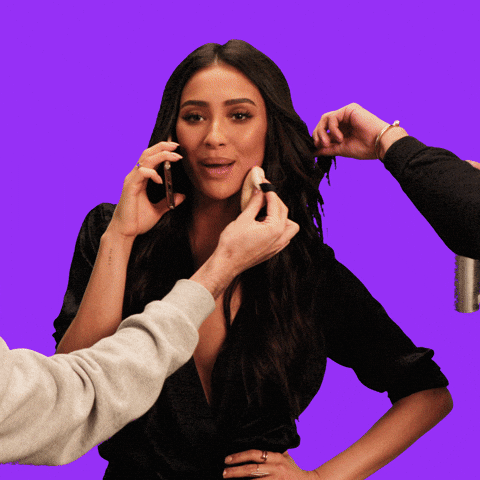 Sweetiebomb.com is a participant in the Amazon Services LLC Associates Program, an affiliate advertising program designed to provide a means for sites to earn advertising fees by advertising and linking to Amazon.com. We may earn a commission when you buy through links on our site.