Interviews are very important. Especially the way you present yourself. Is it okay to have long hair for an interview? Before you cut off that hair, take a look at this article. We will teach you what you need to do to make yourself look presentable for that big interview. 
How to Look for an Interview
Dress professionally. This is not the time to wear a shirt that has a 'Spongebob' imprint on it. No, that is a complete turnoff. To look presentable to deem that you want this job, get out a suit and tie, or a nice blouse and work pants. 
Appearance is the most important part of an interview.
How you present yourself heavily influences the interviewer's decision. You want that second interview, right? That's why you should walk into that interview with a professional appearance.
So, what about my hair? Should I keep it long or should I get a haircut before the interview? Everyone has their style. But that does not mean it will fly with the business you are being interviewed for. 
How to Show Up at An Interview
Arrive 10-15 minutes early. It's okay to show up on time, but that could interpret tardiness
Show up to an interview wearing a professional business attire
Maintain an appropriate hairstyle
Have your resume and any other necessary paperwork
Sit up straight, listen closely, and ask questions
What Not to Do in an Interview
Don't show up to an interview with messy hair. Always have a hairbrush on hand to make sure that your hair looks presentable
Casual clothes are not your best call
Do not slouch in the chair
You should not talk too much
Rudeness is not allowed, and this is not the time to pick at the interviewer's appearance
What Does Having Long Hair Say About Myself?
Your appearance indicates a lot about you. You know the saying. Getting to know someone is highly important before judging them. If you are going to go into that interview with long hair, show them how professional you are. 
Show your possible boss who you are and that your personality does not reflect your outward appearance. Arriving at an interview with long hair is not bad but in a nice way of putting it, you don't look normal. 
Keep Your Hairstyle Professional
To anyone who is going to keep their long hair for interviews, here is how to wear it professionally. Choose a natural look. Remember, interviews are a time to present yourself and not somebody else. How are you going to fit into this company? 
Wardrobe, makeup, and hairstyle should be balanced. Let's put all that makeup aside and focus on wardrobe and hair. One reason why long hair looks bad for an interview is because it covers your face. Interviewers have no idea if you are doing that on purpose. So, keep your hair professional and keep it out of your face. 
What Does Long Hair Say About Women?
For women, long hair negatively affects their credibility. Long hair indicates that a woman is young, unprofessional, and even insecure. Aside from having long hair, interviewers also judge women based on their hair color, texture, and how they part it. 
According to studies, short hair is preferred in the workplace over long hair. Women with short hair are deemed to be seen as more intelligent, confident, and mature based on other contenders. 
What Does Long Hair Say About Men?
Men who have long hair affect the results of getting the job. It took a while, probably years to get your hair this way. 
What Styles Should I Try for an Interview?
Avoid wearing your hair down. For people who get nervous, they tend to fiddle around with their hair. And it gets in the way, too. Instead of letting your hair rest on your shoulders, wear it in a bun. Wearing your hair in a bun looks more professional and is more comfortable. 
Styles to Consider:
Bun, ponytail, one braid, 
Asymmetrical style of short hair
Wear your hair in a bob or a clean pixie cut
Wear your hair straight instead of curly
If you decide on curls go with loose and natural curls
Side part, try it for a bun and ponytail
Put hair gel or a styling product to make your hair stick
Job Interview Hairstyles 
Ponytails are the best. This hairstyle sets a formal appearance for an interview. Use an anti-frizz product so you won't have any stray hairs sticking up. 
Braids are also a trendy way to go. Try styles like a fishtail, side braid, or a French braid. Have fun with it. Our only recommendation is that you avoid putting your hair in two or more braids. Keep it low-key.
Pin One Side of Your Hair Back
Long hair is frustrating to take care of. Don't ever get into the habit of messing your hands through your hair. That is the ultimate nervous tick. Pull back one side of your hair out of your face. Make sure that it is secure so it won't fall over your shoulder.
Loose Curls, and Natural Waves
Style your hair with loose curls. It's a trendy style and better yet, it is effortless. Natural waves are also very trendy. They enhance your appearance immediately and it adds a style. One tip that we will adhere to is to not go overboard. Avoid styling in over-the-top fashions.
You may think that a bun looks boring, but they are not. They add spunk to your style and look professional. Experiment a bun in waves, braided, or keep it straight. Place a bun in the nape of your neck.
Keep your long hair behind your shoulders. That way you won't have it falling over your shoulders, or worse, sticking to your lips. In an interview, you need to be able to speak coherently. 
Keep it Short, but Style it
There is nothing wrong with having short hair, especially for women. Everyone is self-conscious about their appearance. Don't go along with the crowd. Be a role model and show off your short hair to the world. Choose different styles to make it look presentable. 
The pixie cut has become more popular over time. This is only for people who want to cut off their long hair for something more professional. The pixie cut is an easy style to manage. 
Ask Around
What you wear to an interview is all based on your decisions. If you are unsure of how to go, asking friends or family members is okay. 
Take the opportunity to ask a barber or a hair stylist. They are here to save your life. With their advice, they will help style it into the best trim to improve your look. Ask your style to recolor your hair, layer it, and ask for opinions on other styles. 
Experiment on Your Own
One of the greatest parts about hair is that you can experiment with it. Before the interview, test out which styles look nice. Take a look at images of people who are preparing for an interview. How do they present themselves? 
Be prepared for how people view you. People treat you differently depending on the style you have. Don't change your hairstyle for the sake of what others want from you. Your hairstyle highly depends on how you feel about it.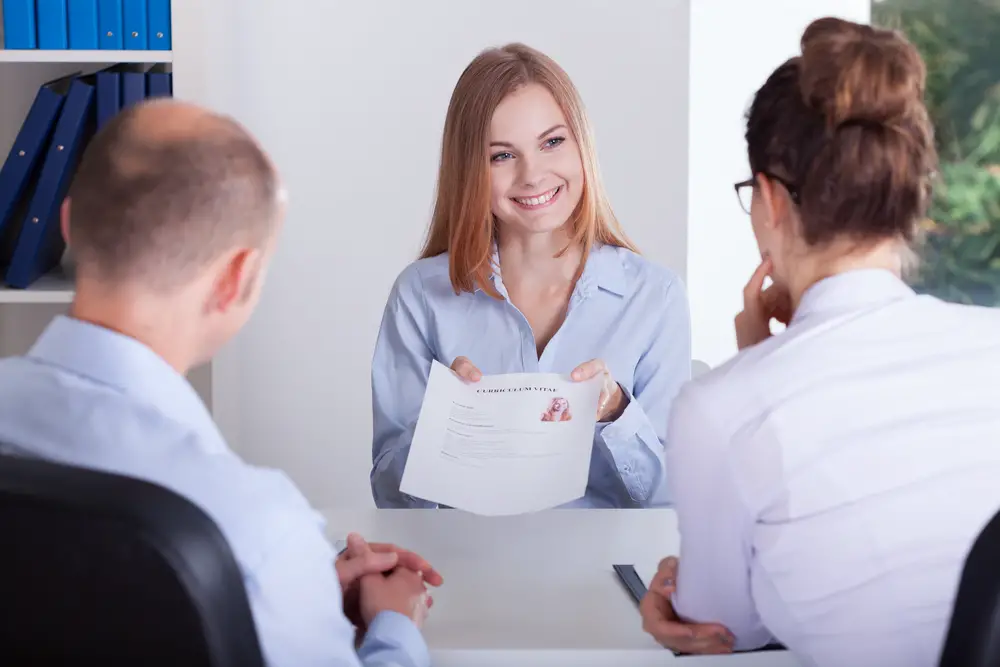 How Should I Dress?
That is a great question. Choosing what you wear for an interview with long hair is highly important. Make sure that your hair does not cover anything that you want the interviewers to see.
Two-piece jackets are a nice option. Pair your clothing choices in solid coloring. Your color should be anything like black, navy blue, or brown.
Wear appropriate work shoes. Leave the sneakers at home, depending on the business. 
Once you have picked out your clothes, arrange your hair in different styles to determine a suitable style that matches your outfit. Pull it back into a ponytail to adhere from it getting in the way. A day before the interview use a moisture treatment so that it does not look dry.
Cut it Now, and Let it Regrow?
Cutting your hair before the interview is a good option. Besides, hair grows back after all. Once you have the job, let it grow back. Albeit, some jobs are fine with long hair but keep in mind that you may have to cut it as part of the job offer.
Keep Your Hair Natural
Interviews are to show your true self. This is not the time to try out a hairstyle that you would never wear. Wearing your hair naturally is your best bet. You don't have to straighten it or style it. Be confident. The most important thing you do is be confident with yourself and in the interview.