Apart from scrubs, compression socks are an important addition to every nurse's wardrobe. Unlike pregnant women, nurses require compression socks due to their nature of work. They remain standing for long hours, thus affected by the force of gravity that constantly pulls down blood and other body fluids. This compromises circulation, causing swelling and other health problems. Finding the best compression socks for nurses help in alleviating this potential development.
Despite their understanding of the importance of wearing compression socks, as a nurse, you may not be sure of the specific type to buy. This is compounded by the presence of various levels of medical compression socks available used for different benefits and other specific features of the socks.
To ease your search, the guide below outlines the best compression socks available on the market alongside a buyer's guide to ease your purchase process.
Top 6 Compression Socks for Nurses
1.    Sockslane Cotton Compression Socks
The Sockslane Cotton Compression Socks are a perfect choice for nurses for many reasons. They suit those suffering from plantar fasciitis, varicose veins, shin splints, and edema. Among the main features of these compression socks include;
Medical grade compression – the Sockslane Cotton Compression Socks come with medical-grade compression of 15 – 20mmHg. Such graduated compression is beneficial in reducing fatigue and enhancing blood circulation in the legs.
Progressive stretch technology – these socks contain more than 65 percent combed cotton with anti-allergy fibers. This material combination is both stretchy and comfortable, which reduces risks of DVT and varicose veins. They are also non-binding, and the use of progressive stretching technology makes it neither tight nor loose, enabling them to remain up all day long.
Anti-allergic and breathable – the socks have an extra-large cuff with reinforced seams that help them last long despite daily washing. They are breathable, anti-allergic, and anti-odor. This reduces common skin conditions such as allergies, irritations, and discomfort. They are also perfect for wearing for long periods.
Fashionable – the Sockslane Cotton Compression Socks are trendy and fashionable with beautiful colors, patterns, and designs. The materials used in its design are of good quality and high performance.
Pros
Good construction design
Breathable and anti-allergic
Suits various medical conditions
Cons
Tight compression for some users 
2.    Nurse Mates Women's Compression Trouser Socks
The Nurse Mates Women's Compression Trouser Socks are knee-length and made to improve blood circulation in the legs. They are both colorful and stylish and specifically made for all hardworking nurses looking to better their nursing experience. Key features of these socks include;
Extra-soft material make – the Nurse Mates Women's Compression Trouser Socks are made from durable and ultra-soft fabric material. The socks have a non-binding welt that keeps them in position all day long. They are comfortable with heel and toe pockets to add to their comfort. The microfiber fabric material make makes it easy to wear for long periods.
Graduated compression – though not the highest, these socks come with true graduated compression ranging between 12 – 14mmHg, which is good for relieving pain and discomfort in the legs resulting from tough working schedules. Since nurses are on their toes most of the time, these socks prevent medical conditions that arise due to the tough nature of work, including swelling, varicose veins, and soreness.
Perfect fit – the socks are available in various sizes, all of which provide a snug fit to the wearer. They also provide a good level of compression, which is neither tight nor loose. They fit instantly, fits comfortably to relieve pain, and aches in the leg area.
Pros
Soft and comfortable
Affordable
Relieves fatigue and soreness in the legs
Cons
Quite tight for those with big calves
3.    Sockwell Women's Circulator Compression Socks
Another best compression socks manufactured to help nurses beat their challenging work routines are the Sockwell Women's Circulator Compression Socks. They are crafted in the USA and made from quality materials that provide utmost comfort all day long. Some noteworthy features of these socks include;
Reduces leg swelling and fatigue – these socks prevent swelling by preventing the pooling of blood in the lower parts of the leg. As you may know, blood pooling occurs when one stands for extended periods, causing exertion on the veins in the leg. These socks prevent such exertion by providing the right amount of compression in the legs.
Enhances blood circulation – the Sockwell Women's Circulator Compression Socks promote blood circulation in the legs, which minimize the chances of developing varicose veins. They provide a compression ranging between 15 – 20mmHg, which is just right for stabilizing muscles and preventing them from damage caused by fatigue and exhaustion.
Sufficient temperature control – probably one of the best features of these compression socks is that they maintain a good level of temperature. Regardless of the prevailing external conditions, your feet will remain warm. If the external temperatures are hot, the socks absorb moisture and keep your feet smooth and dry.
Long-lasting comfort – the Sockwell Women's Circulator Compression Socks can be used for all-day regardless of your activities. This suits nurses looking to perform their duties efficiently as they energize and stabilize the leg muscles.
Pros
Good temperature control
Quality material construction
Seamless toe closure
Absorb moisture and keep feet dry
Cons
Not graduated compression
4.    Vitalsox Patented Graduated Compression Socks
If you are looking for the best compression socks for nurses that improves blood flow throughout your feet and calves while providing good warmth all day, go for the Vitalsox Patented Graduated Compression Socks.
Vitalsox is a reputable company known for high-quality compression socks for men and women that suit a wide range of activities. They are perfect for athletic sports, gym training, nursing, standing, traveling, walking, and flying.
The Vitalsox Patented Graduated Compression Socks are made from silver drystat, a moisture-wicking polypropylene, nylon, and spandex materials. This material combination help in reducing lactic acid production, increase oxygen delivery to muscles, and improve blood circulation.
The silver polypropylene material included in the material make not only aids in preventing socks odor but also forms a natural bacterial resistance and minimizes the wicking of moisture for a cleaner. Unlike other brands with 2-way stretch, these socks feature a four-way stretch that provides a consistent and comfortable compression throughout the entire socks.
Pros
Good quality material make
Recyclable materials
Suits multiple uses
Reduces lactic acid production
Cons
5.    Physix Gear Sport Compression Socks
If you are searching for compression socks that will keep you in style yet comfortable, the Physix Gear Sport Compression Socks should be your socks of choice. As you may know, nursing is generally tiring and requires one to be on their feet almost every time. Like other best compression socks for nurses, they prevent swelling and soreness in the legs. Key features of these socks include;
Gradient compression – the Physix Gear Sport Compression Socks offer gradient compression, which comes in handy in treating a number of medical conditions experienced in the legs. They offer 20 – 30mmHg compression, which is among the highest in our list. They are good at dealing with swollen legs, blood clots, stiffness, varicose veins, and calf compression.
Enhance blood circulation – these socks are among the best in improving blood circulation in the legs and maintaining them at a comfortable level. You can have them on all day to provide comfort to your legs and prevent them from welling or soring. These socks are famous in the fitness industry for their reliability.
Comfortable material make – the socks are made from premium fabric material with professional stitch. Despite being legit compression socks, they are very easy to put on. The comfortable and quality material enable them to be washed regularly without losing their compression quality.
Versatile – the Physix Gear Sport Compression Socks are versatile and can be worn during summer and winter. They offer immediate support and comfort in various styles and colors.
Pros
Graduated compression
Money-back guarantee
Antibacterial fabric
Long-lasting
Cons
6.    Blitzu Compression Socks for Men and Women
The Blitzu Compression Socks for Men and Women incorporates various design features to make them nice overall socks for daily lifestyles, ranging from leisure to athletic activities. Starting from the bottom make of these socks, they feature seamless toe construction with light cushioned heel and toe placements that alleviate pressure at the bottom of the foot.
The socks feature vertical ribbing with a unique twill design that provides ample shock absorption and helps prevent shin splints and calf cramps from developing. They also add to the comfort, support, and stability of the arch area of the foot. Blitzu Compression Socks for Men and Women also feature a circular knit structure, which provides 360-degree stretch to allow for a better fit and high-level flexibility/mobility regardless of an individual's range of motion.
Another key feature of these socks is the non-slip cuff, which improves the overall fit of these compression socks. They prevent them from unnecessary falling when worn. They are available in multiple colors for men and women. Their design helps in preventing common conditions, including cramping, swelling, foot fatigue, varicose veins, and improve oxygen flow as well.
Pros
High-quality design
Prevents various medical conditions
Available in multiple colors
360-degree stretch
Cons
Lacks gradient compression
Compression Socks for Nurses Buying Guide
Choosing the best compression socks for nurses is not challenging. However, you should look into some considerations to find the best socks that suit your feet and legs. Below are some essential considerations to look into before making a purchase.
Material
Compression socks are made from a wide range of materials. Common materials include cotton, nylon, spandex, rubber, Lycra, polyamide, rubber, and elastane. Some compression socks are made from a combination of different materials to provide additional flexibility, warmth, compression, antimicrobial benefits, and others.
Combining different materials vary greatly depending on the primary needs that the compression socks should meet. This makes it possible for potential users to find socks that are best suited for their situations. Athletes, for instance, will find compression socks designed with moisture-wicking and antimicrobial features beneficial as they prevent discomfort and odors when working out.
Before making a choice, evaluate your working conditions to purchase suitable compression socks. Those who work in hot and humid environments will require a different pair compared to those in a cold and dry area.
Level of Compression
The compression level provided by compression socks is measured in mmHg. For all designs, it ranges from 8 to 50mmHg, with the highest number signifying high levels of compression. Compression socks with compression levels above 20mmHg should be used with the directions of a physician. Listed below are the different levels of compression provided by compression socks.
8 – 15mmHg – these socks provide mild compression that helps in addressing mild symptoms of lower body swelling around the feet, ankles, and legs. They help in preventing your legs from developing fatigue during long periods of standing or sitting. They also reduce the tiring and aching feeling after a long day on your feet.
15 – 20 mmHg – they are the most common entry-level compression socks that doctors recommend for women who have never used compression socks before. The help in relieving tiredness, aching legs, and prevent swelling on the legs and feet. This compression level also prevents Deep Venus Thrombosis and other blood problems.
20 – 30mmHg – these firm compression socks provide several benefits. They prevent swelling during pregnancy, prevent DVT, varicose, and spider veins. The socks also encourage good blood circulation. Such great compression helps in treating serious venous issues such as moderate to severe edema, lymphatic edema, and much more.
30 – 40mmHg – this level of compression helps in preventing serious versions of the same conditions as the 20 – 30mmHg. However, you shouldn't wear this high level of compression unless you have been prescribed by a doctor.
40 – 50mmHg – this is the highest level of compression. Such compression socks are used to treat serious conditions, including lower body swelling, chronic venous insufficiency, deep venous thrombosis, and severe varicose veins.
Just to mention, whereas compression socks for nurses are safe for anyone to use, nurses with specific conditions should consult physicians before wearing these socks. Conditions with issues include uncontrolled congestive heart failure, concomitant dermatoses, arthritis, ischemia, untreated septic thrombophlebitis, and advanced peripheral neuropathy. Also, note that the suggested uses and benefits of these compression socks do not guarantee that they will cure or alleviate your medical condition.
Gradient Compression vs. Uniform Compression
The best compression socks for nurses are designed to provide either gradient compression or uniform compression. Gradient compression socks provide a tight level of compression at the wrist or ankle and gradually lessens towards the top or center of the body to improve circulation in the desired directions. Simply put, gradient compression socks get light around the thighs and knees to help blood circulate back up the legs.
On the other hand, uniform socks, as the name suggests, applies an equal level of compression throughout to provide an even level of pressure stabilization over your body part. Due to this, patients dealing with specific medical conditions, such as edema, use them.
Size or Length of Compression Socks
Compression socks vary greatly in terms of size and length. This can greatly affect the blood flow and circulation of the user. Compression garments may cover the calf, foot to the knee, or the entire leg to provide the user with unique benefits that suit their particular needs. Understanding your specific needs before purchasing your compression clothing helps in making better purchase decisions.
Compression Socks vs. Compression Sleeves
Probably one of the common questions asked by nurses looking to purchase compression socks is if they should opt for compression socks or sleeves. Well, the best answer to this is that both clothing have their benefits depending on their usage.
Compression socks are best worn during light activities, work environment, during recovery from physically demanding activities and travel. They offer uniform/graduated compression levels through the feet and calves, which helps in improving blood circulation throughout feet and legs.
Compression socks are also focused on recovery, maintaining controlled temperatures, improving venous disorders, and providing all-day support to those who require compression for better blood and oxygen circulation. Compression socks design provides uninterrupted fit, which is often preferred by most people. This makes them a perfect alternative to standard socks, which don't have any health benefits.
Compression sleeves, on the other hand, have several benefits. They are mostly used by athletes during endurance-based activities as it enables them to wear their own socks while playing sports. Sleeves are also highly beneficial for individuals who sweat a lot, as they keep the feet dry when running, doing Crossfit exercises, cycling, or engaging in other athletic activities.
Athletes wear compression sleeves mainly to improve circulation and potential lactic acid buildup. This enables them to engage in these activities for longer periods.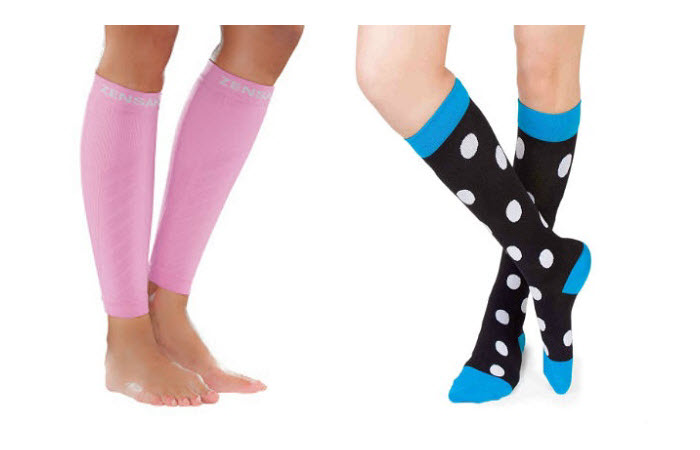 Why Nurses Should Wear Compression Socks
Compression socks are essential for nurses as they save a lot of medical conditions associated with exhaustion and long hours of work. Among the benefits of these socks, include;
Reduce swelling and injuries – nurses have to stand on their feet for the majority of the time they are at work. This is not only exhausting but can lead to swelling in the legs as well. Compression socks help stabilize blood flow in the legs and keep your muscle tissue in their right condition to ensure that injuries recover quickly. Through this, no blood or fluid pool in the legs, preventing swelling.
Prevents spider or varicose veins – varicose veins are a common problem associated with long periods of standing. This happens majorly to those who sit or stand for long periods. As a result, blood pools in the legs and the veins enlarge. To avoid discomfort and pain associated with this condition, nurses should wear compression socks to relieve such symptoms.
Reduce soreness – sore legs are caused by challenging work schedules. Nurses have tough duties, where they should be both attentive and mobile. Excessive pressure and exertion cause soreness in the legs, causing unnecessary pain and discomfort. Compression socks relieve such symptoms by improving blood circulation and oxygen flow.
Reduce fatigue and provide coolness – probably the most suitable reason for using compression socks as a nurse is to reduce fatigue and ensure comfort throughout the day. With these socks, you can be sure of no pain and discomfort.
The Bottom Line
Nursing is generally challenging and demanding. As a nurse, you have to remain active and attentive every time to provide sufficient patient care all day. One best way to reduce fatigue and prevent swelling and soreness in the legs is by getting the best compression socks.
Even though a prescription is not necessary when purchasing compression socks, it is prudent to speak to a physician before buying a pair of compression socks. Doing this will help you find the best compression socks for nurses available on the market. Even then, the guide above outlines some of the best products you can choose from.
If you have used any of the pairs outlined above, feel free to share your experience in the comments section below.
Sweetiebomb.com is a participant in the Amazon Services LLC Associates Program, an affiliate advertising program designed to provide a means for sites to earn advertising fees by advertising and linking to Amazon.com. We may earn a commission when you buy through links on our site.